Getting lost in the conversation of color, light and shadow, I am testing my senses, leaving behind a visible trace.
Immersed in the mystery of all that exists. Unable to read the bird's eyes, I wonder 'til the brightness of the sun blinds me. As if light and darkness were not opposites, but they exist as one.
I am interested in the idea that we all see things differently because we filter things through our own frame of mind. Your opinion matters.
As an experiment, I asked six literary friends to write one sentence about each painting. The writers were:
David Beaudouin • Betsy Boyd • Amanda Fiore
Nancy Murray • Alan Reese • Tracy Dimond
The results added an intriguing layer of perspective and interaction. Will what they see change what you see? Einstein said, "Logic takes you from Point A to Point B. Imagination takes you everywhere."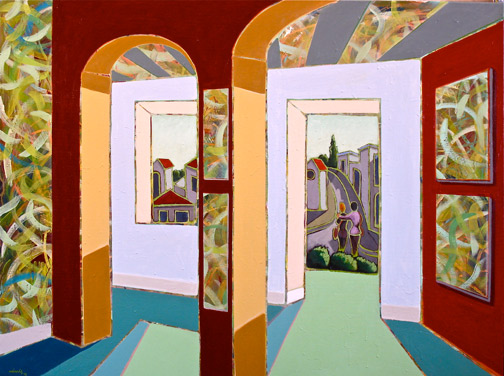 Frame of Mind (A)
Acrylic & ink on canvas, 2015
36" x 48"
DB
Outside of it is another world we make
bb
When she thought of their friendship, she tended to see them through open windows, a road welcoming their footsteps.
td
purple lights the heart pillars / hold a chest tight
af
When you turn your back, trust the wind, and sail through this, to that.
nm
Spaces, minds and hearts must remain open for light and love to come and go as they please.
ar
Arm in arm, we stroll the boulevards of our friendship, painting the world around us.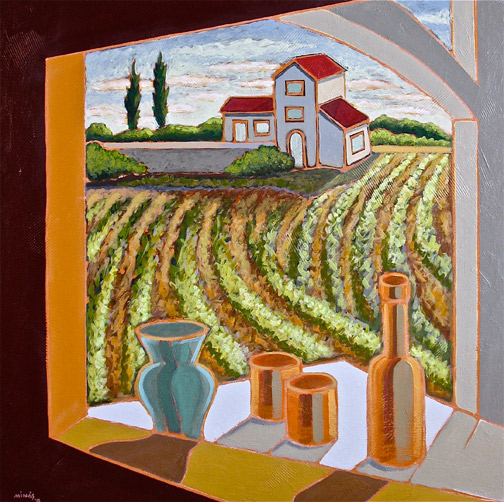 Frame of Mind (B)
Acrylic & ink on canvas, 2015
30" x 30"
DB
As it makes us, greenly, in its eye
bb
The light on the porch bronzed on her face—like she'd drunk cups of golden wine.
td
in this dream / I drink to everyone I'll never meet / in collected thoughts before the sky
af
There has been you, there has been beauty.
nm
It is what is cultivated that grows. 
ar
Gazing over the fertile fields, I find the world meets me at my window, washing over me with its light.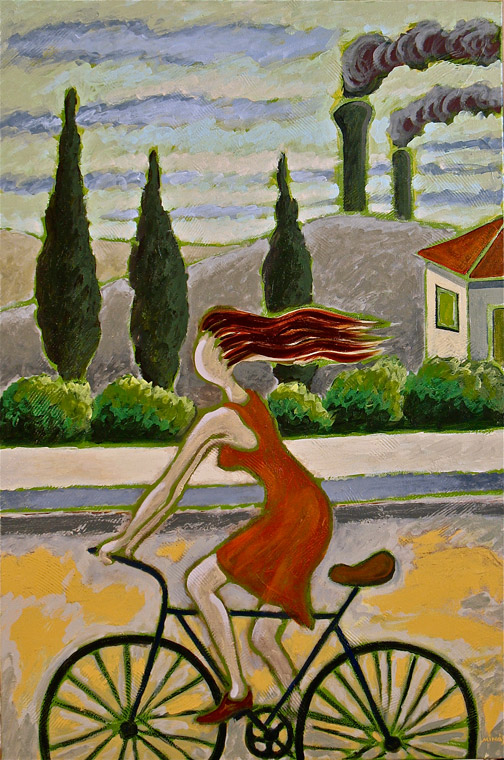 Frame of Mind (C)
Acrylic & ink on canvas, 2015
36" x 24"
DB
Where I find you, waving hi on a bicycle of all things
bb
"Flame your hair," he called to her, so she stood up and pedaled, then stilled her body on the bike.
td
trouble breathing in / side with your lonely gravity
af
So many days, all wild with light, and changing.
nm
There is a great and delightful difference between industry and growth.
ar
The wind purifies our present. We outrace the smoke of the past.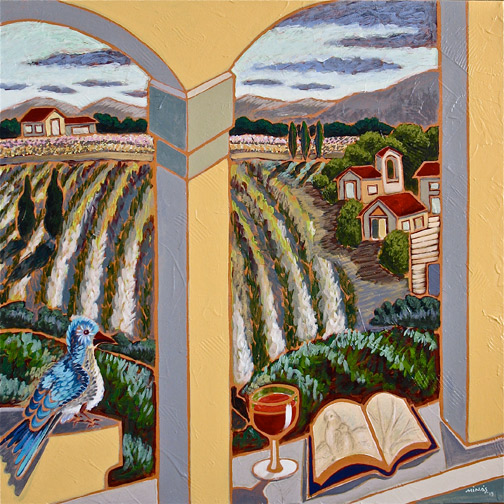 Frame of Mind (D)
Acrylic & ink on canvas, 2015
30" x 30"
DB
Not blue at all in this green place, day folding
bb
At twilight a soft pencil line and small glass of wine are all you really need.
td
comment from the sky: the leaves belong to no one
af
What I found about the wind sharpening, and the last moments of light.
nm
Step away from your contemplation and watch nature swoop down and perch in your place. 
ar
Lost in this moment, I am inside my outside and outside my inside.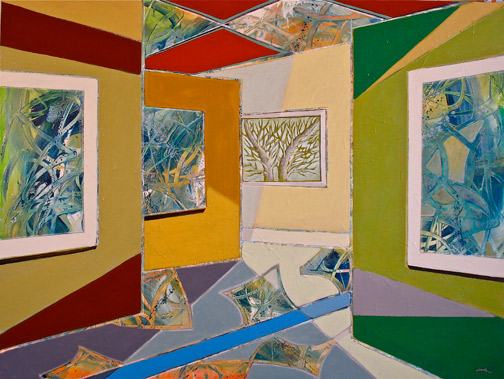 Frame of Mind (E)
Acrylic & ink on canvas, 2015
36" x 48"
DB
Into another stroke of memory to flood a wall with light
bb
Please exit through any available artwork.
td
clean up worthwhile scraps / the money from the floor
af
Everywhere I look, comes alive.
nm
Let art spill outside of the frame and follow it wherever it takes you. 
ar
Here, memory and experience interleave like synaptic tree branches, urging and yearning.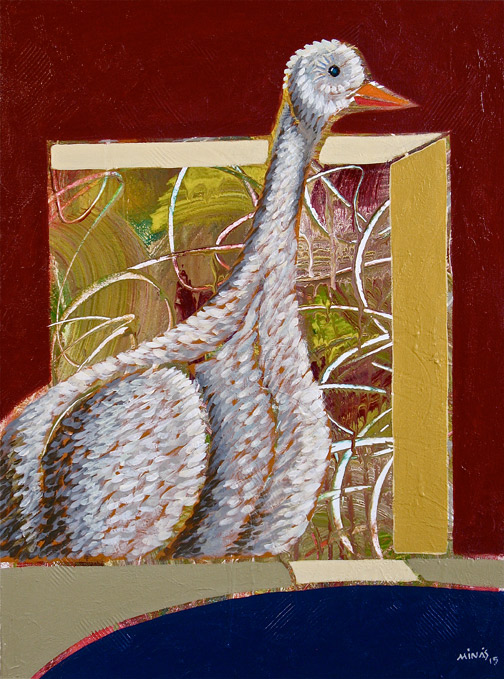 Frame of Mind (F)
Acrylic & ink on canvas, 2015
24" x 18"
DB
Where any odd thing with feathers makes perfect sense
bb
"The people here build intricate nests outside the birds' houses," she told him.
td
where is your social turn signal / standing above the water
af
Autumn, and the crack of dry leaves.
nm
Art and nature will not be contained. 
ar
The electric snow goose is mute for the moment.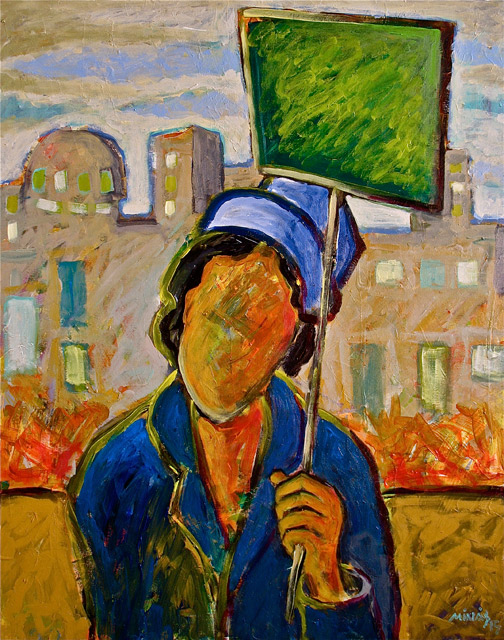 Frame of Mind (G)
Acrylic & ink on canvas, 2015
30" x 24"
DB
Like that first day with your funny blue hat and green bumbershoot
bb
Not her face—it was her playful cap and her patience when you asked for directions that made you know.
td
after long conversations / the face becomes / the face of another
af
Come! You are me, and we are one. Yes?
nm
Behind every city window is a face, without reflection, waiting to be seen. 
ar
While the world burns, a sky blue woman, faceless with shame, displays the last green swatch of earth.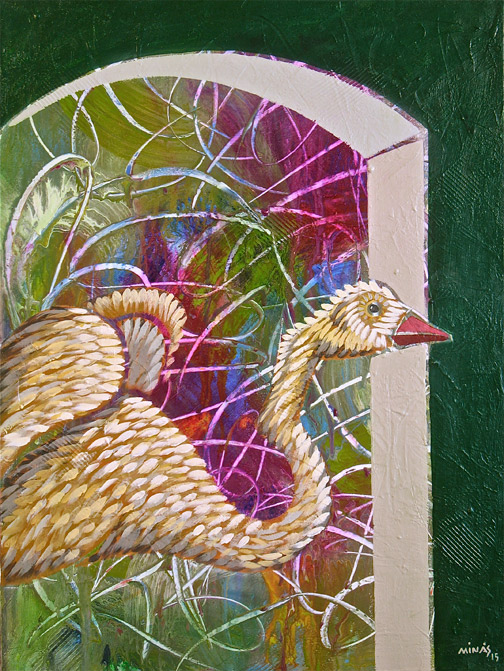 Frame of Mind (H)
Acrylic & ink on canvas, 2015
24" x 18"
DB
It all means something, like that sudden gander on the sash
bb
That year, cages were banned in the city and the country.
td
through the eye / text isn't enough / keep traveling alone
af
A puzzle of long fields, and roaring mountains.
nm
Church pews and fairy-tales are just the beginning. Eventually, we will discover our wings
ar
The electric goose prepares to take flight.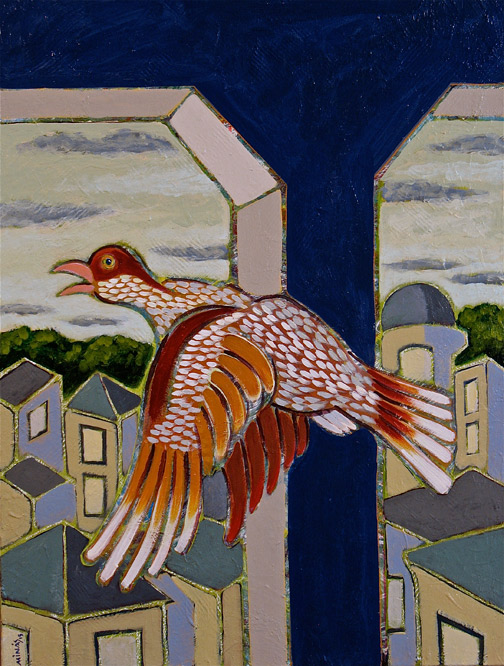 Frame of Mind (I)
Acrylic & ink on canvas, 2015
24" x 18"
DB
As much as the wood thrush that left us at dawn
bb
He didn't want to leave, but the light had turned the windows silver—and he was too much alone.
td
be free / pay your bills on time / refinance the mortgage / sore through accounts
af
Like the last breath of happy night
nm
Chester laughingly told the others about the cage they tried to put him in. 
ar
The plaintive cry of the Jubjub bird rains down over the rooftops.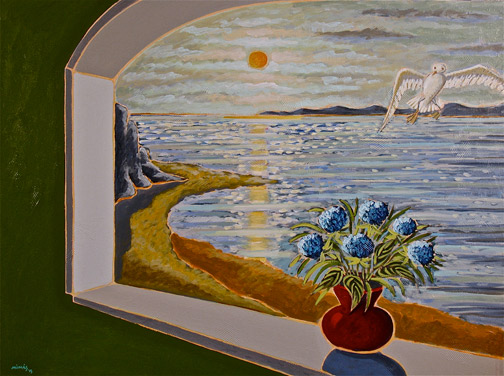 Frame of Mind (J)
Acrylic & ink on canvas, 2015
30" x 40"
DB
Because everywhere you are, a vase of blue hydrangeas, sunlit water
bb
A ladder of sunlight on the waves is not something you have to work to climb
td
a bird cries over the ocean: solidarity / the sun covers all of us
af
Some other evening, more incredible than the one you left me on, will come singing.
nm
Whether the sun rises or sets is irrelevant to the nature of tranquility. 
ar
And in this place may we find everlasting peace.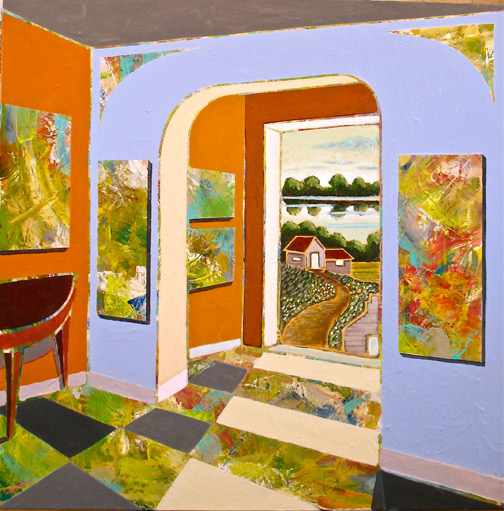 Frame of Mind (K)
Acrylic & ink on canvas, 2015
30" x 30"
DB
Is home forever in hue and heart
bb
Like a cat she slept on the painted tile floor.
td
8a.m. / the sun nods / a door is technology too
af
Every happiness starts with a walk through time
nm
There is a home on Saint Paul Street where love lives.
ar
The open door is just another painting in this house of ours.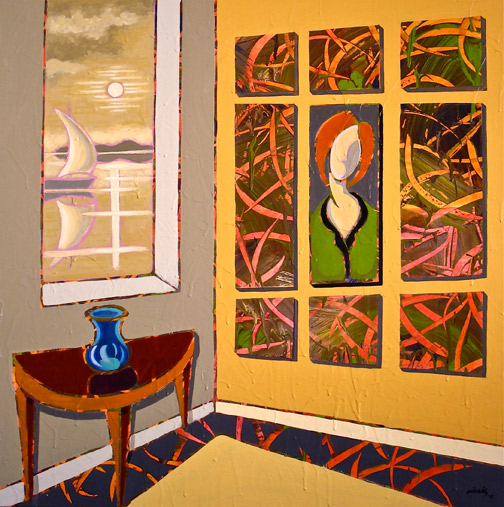 Frame of Mind (L)
Acrylic & ink on canvas, 2015
30" x 30"
DB
Where we leave but return to always, like a great painting
bb
The sailboat returned after Hanna's death—she was sure she saw it.
td
try to address identity / taste the color you wear / dripping from the walls
af
There is no beginning or end to speak of that could hope to possess either you, or I.
nm
If you have no art to hang on the walls, look out the window and find it there.
ar
I am always sailing to reach you, the full moon of my dreams.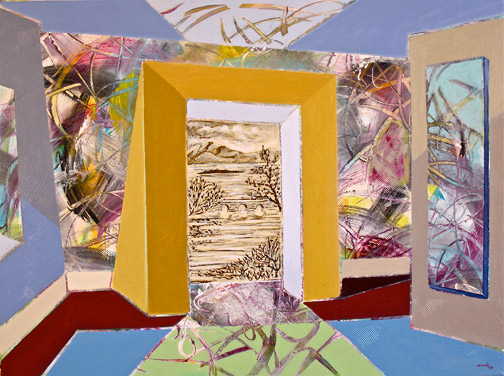 Frame of Mind (M)
Acrylic & ink on canvas, 2015
30" x 40"
DB
That surrounds us for this moment, not unlike life
bb
Don't ever be afraid to walk straight ahead, into yesterday.
td
wear a white dress in the rain / a canvas for color of the sky
af
First, tear your hair out, then laugh, then lay in the grass, in love with the sky.
nm
When I am ready I will walk through the gate, leaving a swirling clutter of clues behind me. When you are ready, come find me.
ar
Through the golden doorway, escape to the colorless world where hearts beat silently and a stone bridge beckons.