Since selling my business in 2014, I have found my artwork to be a great way to stay connected with the talented writers and artists who frequented my Hampden gallery. For each painting in this body of work, a different Maryland poet composed a sonnet.
The writers are: Agnes Osinski, Edgar Gabriel Silex, Gina Caruso, Linda Joy Burke, Jennifer Keith, Amanda McCormick, Leslie Miller, Patricia VanAmburg, Ron Williams.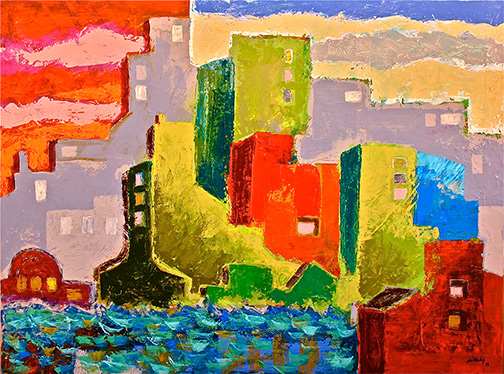 Sonnet City 1
Acrylic & ink on canvas, 2015
30" x 40"
Color Frequency
Agnes Osinski, 2016
Visible light is a very small part
of our great electromagnetic spectrum.
This cityscape of dreams bursts at the seams
with flourescent energy. Synergies
of stone, streaked sky, tinted glass and light beams
cut the horizon. No apologies
for those who awake on the wrong side
of fate—whose dreams flounder in the choppy
bay waters. There is there nowhere to hide
from bad luck, sad demise. But, a poppy
red hue triumphs with the knowledge
that this life unfolds without design.
Your eyes take you to the edge
of color frequency—a blurred line.
Nothing to see but everything to feel--
the unseen pulsates; it is always real.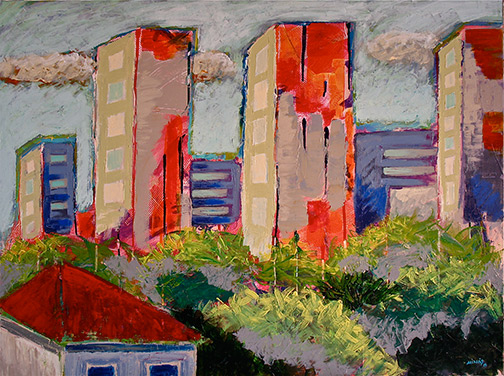 Sonnet City 2
Acrylic & ink on canvas, 2015
30" x 40"
Stele
Jennifer Keith, 2016
the shape of things like giant horse's teeth
from womb to tombstone, rising from a knot
of boiling green, right angles of square feet
imposing order on chaotic days,
a spiral of time, contained for one more round
in quarter angles on this orb of earth.
evoking that Italian word for "room,"
a reach both up and out, both x and y
and no room in between. Our very home:
igniting in a flare of evening light
and mirroring a deep, symmetric proof—
from chaos, order. Here, a man-made truth:
We build on stories, honest and corrupt.
This shackles us. It shelters, brings us up.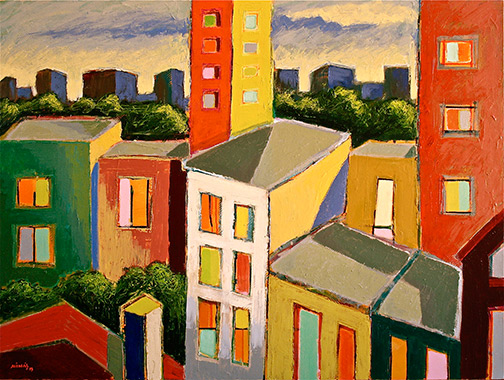 Sonnet City 3
Acrylic & ink on canvas, 2015
36" x 48"
Rainbow Park, Honolulu
Gina Caruso, 2016
At the entrance to Rainbow Park, 
near the Walmart built over bones
of Ancient Hawaiians, a family roasts
a whole pig on a spit between two palm trees,
while their children surf in silhouette
on a molten sea splashed with milky blue clouds,
the glass buildings behind us are awash
with gilt and rose, tangerine and lemon, 
and green, green lime on fire, which sinks 
into a violet blue hush until a cool wind 
picks up, and as a footnote, 
shatters the sky with stars, 
when I say, this is a miracle, and hold 
our nine-year-old son's hand and yours in mine.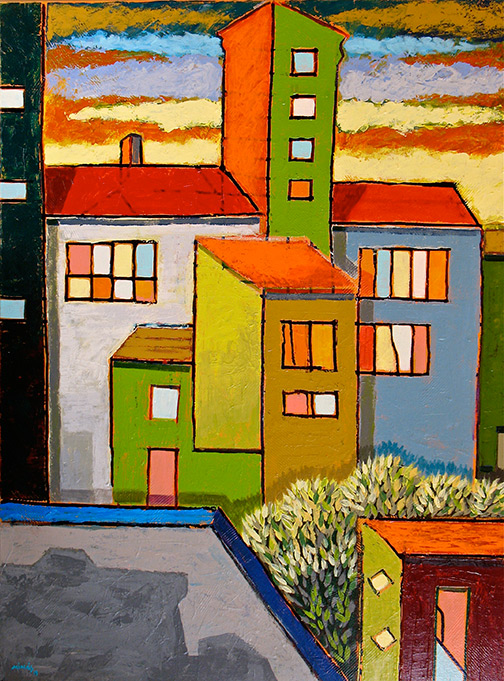 Sonnet City 4
Acrylic & ink on canvas, 2015
40" x 30"
Aubade
Edgar Silex, 2016
the entrance to her apartment was through a back alley
gate a basement door and down a dark dirt floor hallway
the ceiling low kitchen tight bags of clothes barely
room for her bed covered with opened books always
at dinnertime the phone rang in the apartment above
a woman answered talked pleaded cried for hours
while we ate kissed read poems and made love
as we fell deep in her wound fighting our will power
to ask her on mornings when we would bump into her
all of us leaving if she was alright needed someone
to talk to but it was always "Good morning" however
in her smile and her eyes she could see what was gone
as her tears rained down on us it flooded us with desires
so we drowned out love till the sunrise lit the roofs on fire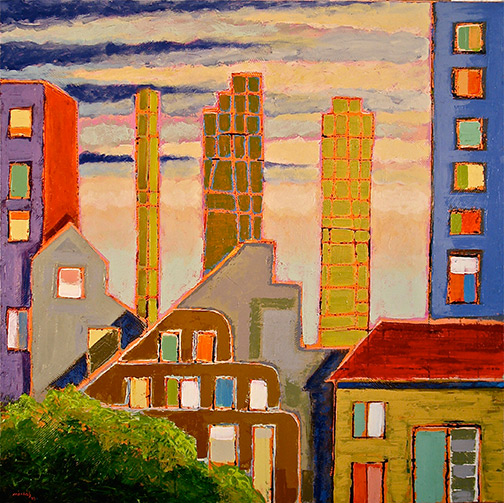 Sonnet City 5
Acrylic & ink on canvas, 2015
36" x 36"
I am Waiting Somewhere Between Uprising and Wonder
Linda Joy Burke, 2016
(with a nod to Lawrence Ferlinghetti, inspired by his poem, "I am Waiting")
"I am waiting for my case to come up
and I am waiting
for a rebirth of wonder …"
I am waiting for these storm clouds to clear
and those who speak of this city of cobbled dreams
to see more than the blight of corruption and schemes
that snuffs the lives of those who care
and corrupts the goals of those who dare
to work toward making lives better.
I am waiting for this city of teddy bear
and balloon memorials "that bleeds,"
this city on the fast track list
of underachievers to remember to believe
in more than the pathos of the pervasive constancy of grief
divined from poverty's wearisome devastations.
I am waiting for the spectrum beyond the clouds
to signal the way for all made equal towards regeneration.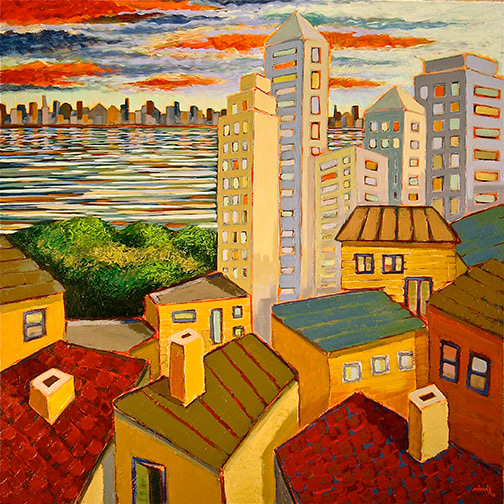 Sonnet City 6
Acrylic & ink on canvas, 2016
36" x 36"
Return to Home
Ron Kipling Williams, 2016
My father brought me to this place
we stood in deep exhale before striking abodes
bathed in reds, blues, and earthen tones
soothed by the music of the river's pace

But as I grew I left my father's hand
plunged into a world I longed to taste
clutched the reins of the metropolis pace
swore that my ego would master this land

Soon the thrill of this world turned old
I cried for abandoning my family ties
I left this soured land of winter skies
ran to the nest that nourished my soul

We stood at our place with fresh eyes and grip
and new hands between us I dream never slip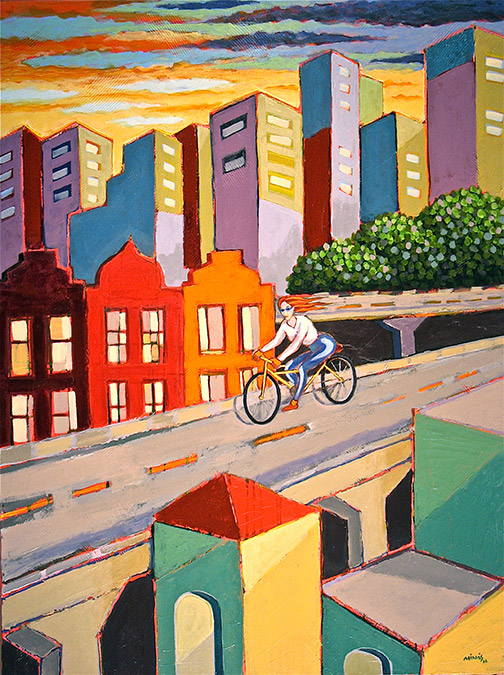 Sonnet City 7
Mixed media on canvas, 2016
40" x 30"
Spring Mournings
Leslie F. Miller, 2016
It's spring, and I'm not ready for the birds'
Kerfuffles over love, frenetic burst
Of bud rejoiced of sunlight, lost for words
I stutter at the hill and do my worst.
In younger years I'd take the wipeout curve
Emboldened by the fever born of spring
I'd milk the day of pep and vim and verve
And pluck the bright words from their stems, give wing
To cruel despair, ride to and not away.
Beneath the hopeful light of mackerel sky,
Fat-bottomed girl, I take the flat today,
Abandoned as a winter nest, and fly
To solitary song of mourning dove.
It's spring, and there is nobody to love.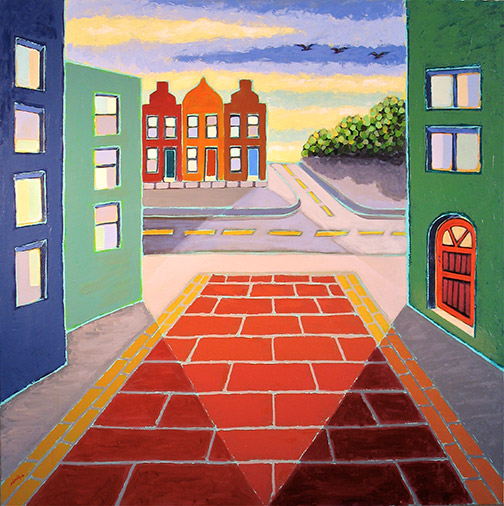 Sonnet City 8
Mixed media on canvas, 2016
36" x 36"
Sonnet on a Corner
Patricia Jakovich VanAmburg, 2016
Our houses see with eyes of changing light
Both rigid walk and softly swerving street
The falling dusk with darkest birds in flight
All places where our paths might sometime meet
Or places we might stumble on our way
Those cracks where we have broken Mother's back
The ways we turn our backs on needs each day
And shut our eyes to all that neighbors lack
But corners beckon us to turning space
A place to see the world with open eyes
And windows opening to air and grace
In neighborhoods of universal skies
A painted road with triangle of gold
With sunlit brick and walls that gently hold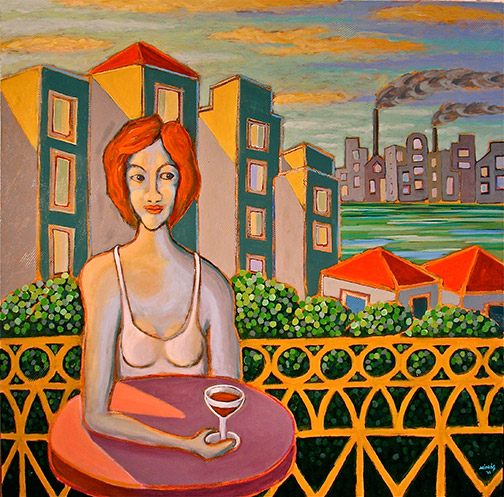 Sonnet City 9
Mixed media on canvas, 2016
36" x 36"
By the river we will be
Amanda McCormick, 2016
This evening! Make a shadow of me and our fire.
We still come to perform and collect objects for our shelf.
Please ask me what I know of this you in my Self.
So hungry with the light of growing, waiting I forget I am a buyer
and I contemplate the sound, have cravings to aspire.
Then I leave, where buildings become small in the smoke itself
with those of us who can never hold the clouds in ourself
we suppose about love, Me is all that I desire.
We sit we become we enjoy eating and drink!
I am forever this reflection, won't you palm my bedside glass?
Pile in these minutes, the sun slips and at last
I am able to know why I came, a convincing ink.
I swallow everything that enters my mouth, even gas.
At least I will harvest my greater pitch, be an animal and think.